Co. Habitat Co-Working Space
Townsville's best co-working and shared office, Co. Habitat Co-Working Space provides easy, affordable and flexible offices, desks, meeting and training space, no matter what business you are in.
Whether you are looking for a Hot Desk, Casual Membership, Permanent Desk, Private Office or Meeting Facilities, this is the place you want to be to grow your business.
Working from a co-working or shared office space provides businesses with a wide range of benefits such as: reduced costs; growing networks; potential for collaboration; new client potential, shared resources.
Fantastic place to work ⭐⭐⭐⭐⭐
Fantastic place to work when passing through Townsville for business like I was this week. The owner was able to accommodate our events at very short notice after a major issue arose at our previously booked venue. The facilities are fresh, modern and very well equipped. Highly recommended.
Nicky Jurd
Precedence Group
Easy to book and kitted out ⭐⭐⭐⭐⭐
I've been using the boardroom at Co-Habitat to run training sessions for my businesses Townsville Scoop and Nelson Street Digital. Josh always does a fantastic job at accommodating our needs, is super helpful and ensures we are comfortable. The hire prices for all of the rooms at Co- Habitat are really reasonably priced, they are easy to book and are kitted out with all of the technology that you require to run successful workshops. Thanks Josh, Kate
Kate Robinson
Townsville Scoop
A tremendous workspace ⭐⭐⭐⭐⭐
Josh is a professional and provides a tremendous workspace with a lot of flexibility and options to choose from. Co Habitat Co Working space looks and feels incredible and it is testament to the hard work Josh has put in to providing an excellent service to the locals of this great city.
Joe Mikaele
Strive Lane
A wonderful workspace ⭐⭐⭐⭐⭐
A wonderful work space for the lonely home office employees and self employed! I had a lovely sun lit desk and faces became familiar quickly, there is a great kitchen with snacks, open seating area for lunch breaks and the owners are lovely. Rooms for large meetings are available if you need a team gathering, this place ticks all the boxes!
Kynah Tierney
Cooee Water
Great service & a great atmosphere ⭐⭐⭐⭐⭐
THE COLLABORATIVE WORKSPACE IN TOWNSVILLE!! If you are in town for the day or need an awesome office long term with great service, a great atmosphere and in a central location this is the only place to go in Townsville. Give Josh a call and he will help you get settled in.
Ben Daveron
TacMed Australia
Perfect for my needs ⭐⭐⭐⭐⭐
Couldn't have been more satisfied with Co Habitat and Josh! Lightning fast replies to my inquiries, and more than helpful in booking the Meeting Room for me. The room was perfect for my needs. Cool, quiet and undisturbed. Looking forward to booking them again in the months ahead!
Paul Weston
Fabulous place…great wifi ⭐⭐⭐⭐⭐
Used a hot desk at Co Habitat's for a day – fabulous place, clean, great wi-fi and friendly staff! Would definitely use again!
Megan Williams
World Vision Australia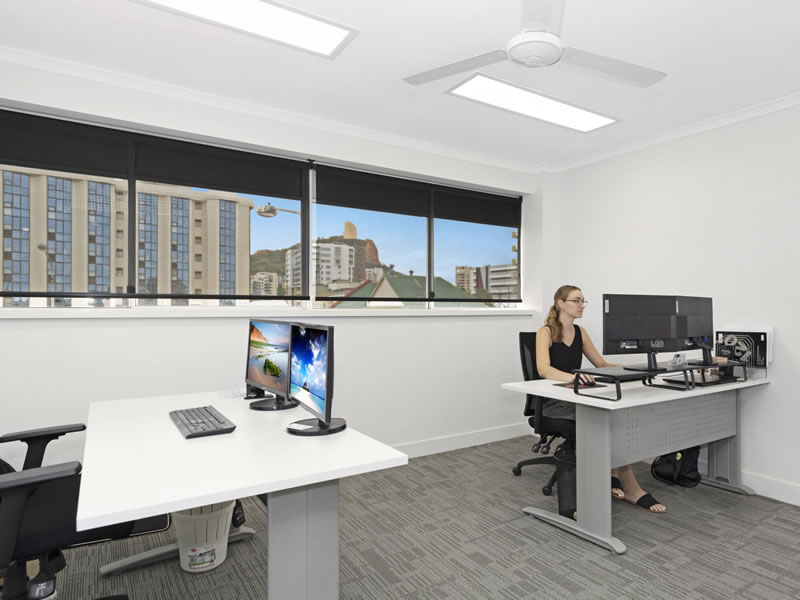 Personal office environment with your business brand on the door. Flexible contracts are available.
Private office.
24/7 Access,
Proximity to boardroom.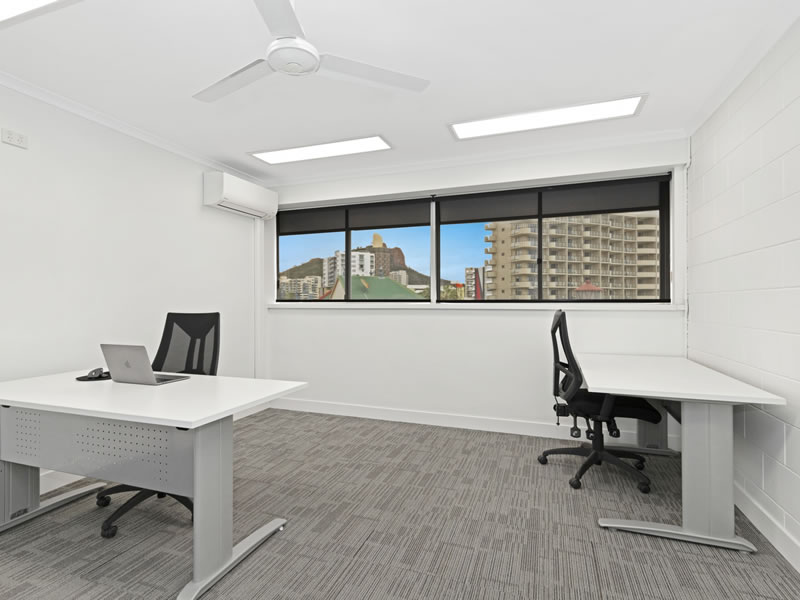 Co-shared office space with your own personal and lockable desk. Maximum of two people in office.
Affordable terms.
24/7 Access.
Proximity to boardroom.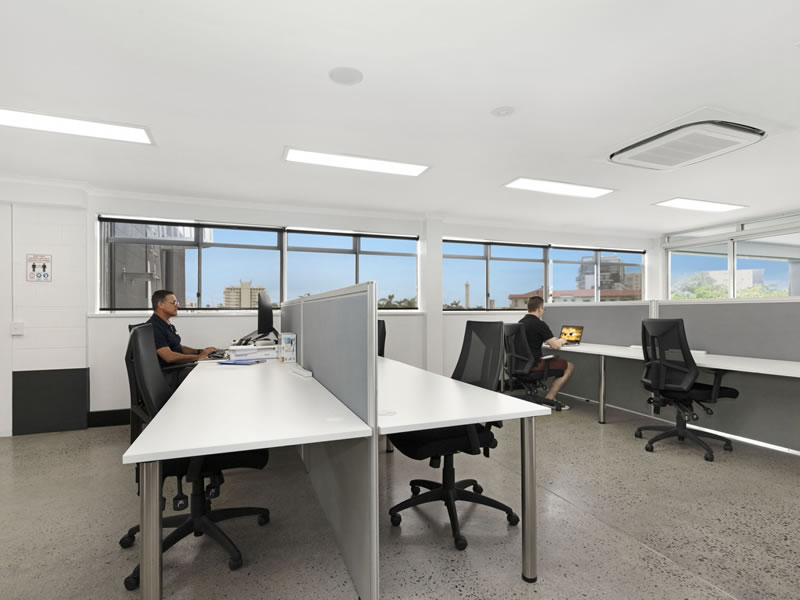 Daily hotdesk in our open plan space with convenient access to kitchen, balcony area and breakout zone.
Access during opening hours.
Proximity to all facilities.
Affordable daily & monthly rates.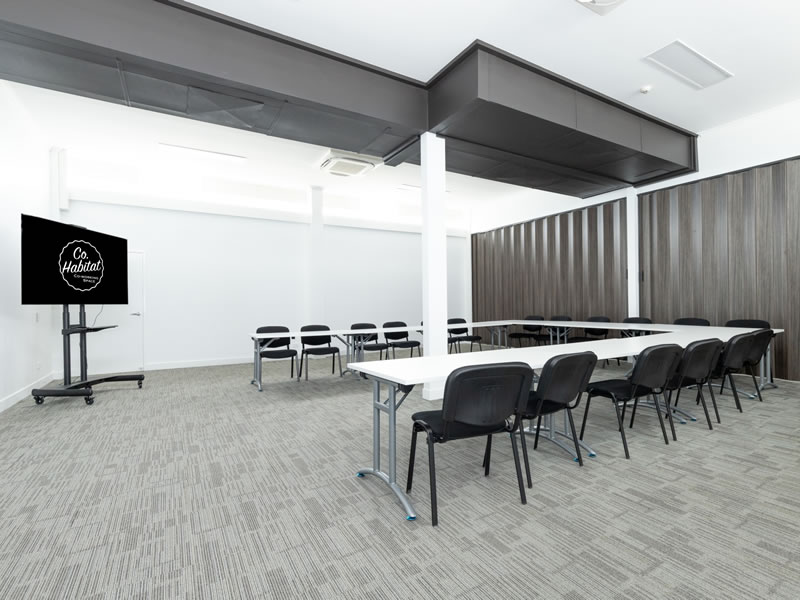 No matter the occasion, our versatile conference space is suitable for all sizes of events and gatherings.
AV equipment for presentations.
Catering available.
Full or half room options.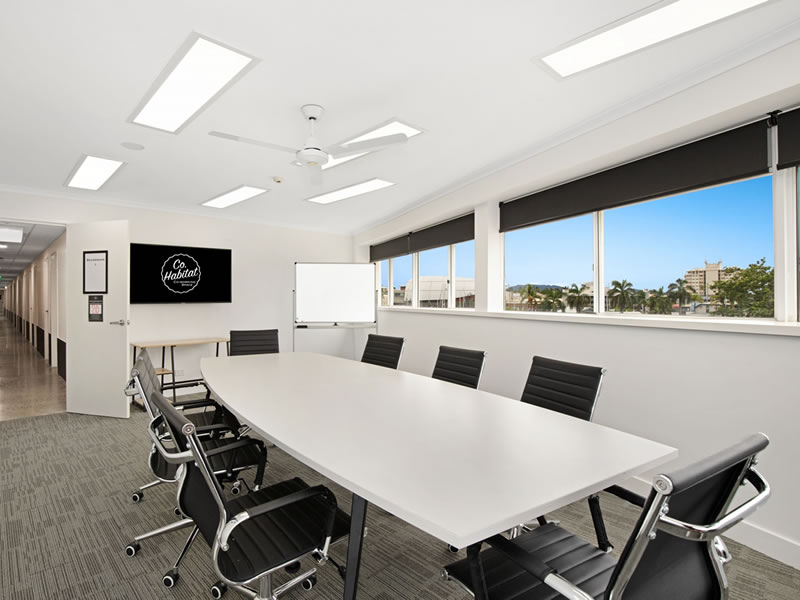 Project a professional image by conducting your next business meeting in one of our convenient board rooms.
Flexible hire arrangements.
Access to AV equipment.
Various room sizes available.
Why Go co.
In a world of pay to use services such as Netflix, Kayo and even new era mobile phone plans, we have become used to flexible memberships and services. Why should it be any different for your business?
No longer do you need to go through rigorous, drawn out lease negotiations, providing bank guarantees, chasing electricity and internet connections to the site on fixed terms with the prospect of being in the same location for three, five or ten years.
Joining a co-working space provides you with flexibility to move up or down as your business demands, much as a phone plan now allows you to change based on how much data you need that month. Flexible memberships that are month to month allows you to grow your business as you need, not when your lease allows for it.
There are obvious benefits to working in a co-working space when looking at the numbers, quick turnaround, less overheads, more time to focus on growing your business, but the benefits do not stop there.
Co-working spaces provide social interaction those working from home often miss. It is a great way to network with people and industries you wouldn't normally come in contact with, opportunities to meet new clients and collaborate with other members. The list of reasons to join keeps on going, so why not come in and have a chat.







---
A community of Members, not Tenants