About Us
From a lunch time conversation to 1600m2 of modern office space.
People often ask how Co. Habitat came to be. Simply put it was through a conversation with a former manager, colleague and Josh, our owner and operator. Somehow, the conversation turned to shared office spaces that had started showing up in cities such as Brisbane, Sydney, Melbourne and Adelaide. All of a sudden, Australia's metropolitan areas were starting to embrace an idea that was already being used in the U.S.A., U.K., Canada and across Europe and Asia.
Already at a crossroad with his career, Josh saw this as an opportunity to create something special, so he started looking into the operation and set up of such places. To say he jumped in to the deep end of business is probably an understatement.
From that initial conversation and nearly 18 months of planning and setbacks, Co. Habitat Co-Working Space officially opened it's doors on 1 August 2018 with an area of approximately 4002m on the mezzanine level of the old Townsville Transit Centre. The demand for space was so high that 12 months later we were already in discussion with the property owner to take over a larger space in the building and 1 July 2020 we relocated to the top floor of the building. This gave us access to 17 Private Offices, 9 Semi-Private Offices, 2 Boardrooms, Meeting Room, Classroom, Podcasting Room, 2 Video Conferencing Rooms, Large Conference Room (120PAX) and plenty of space for Hot Desks and Breakout areas.
Our members are a diverse range of businesses from financial advisors and mortgage brokers to human resource consultants, work placement and recruitment agencies, lawyers, mindfulness coaches, software developers, archeologists and more. This diversity has created a dynamic and interesting community where conversations can vary from professional curiosity and understanding through to the outright ludicrous and hilarious.
With an aim to be flexible and evolve with our members, Co. Habitat has also been able to bring on services and increase expectations where needed. Sometimes this is small such as the addition of secure document destruction (a service we didn't think about), other times they are big changes such as the addition of Virtual Memberships.
We are flexible, we do not pivot but continue to evolve.
---
Josh – Director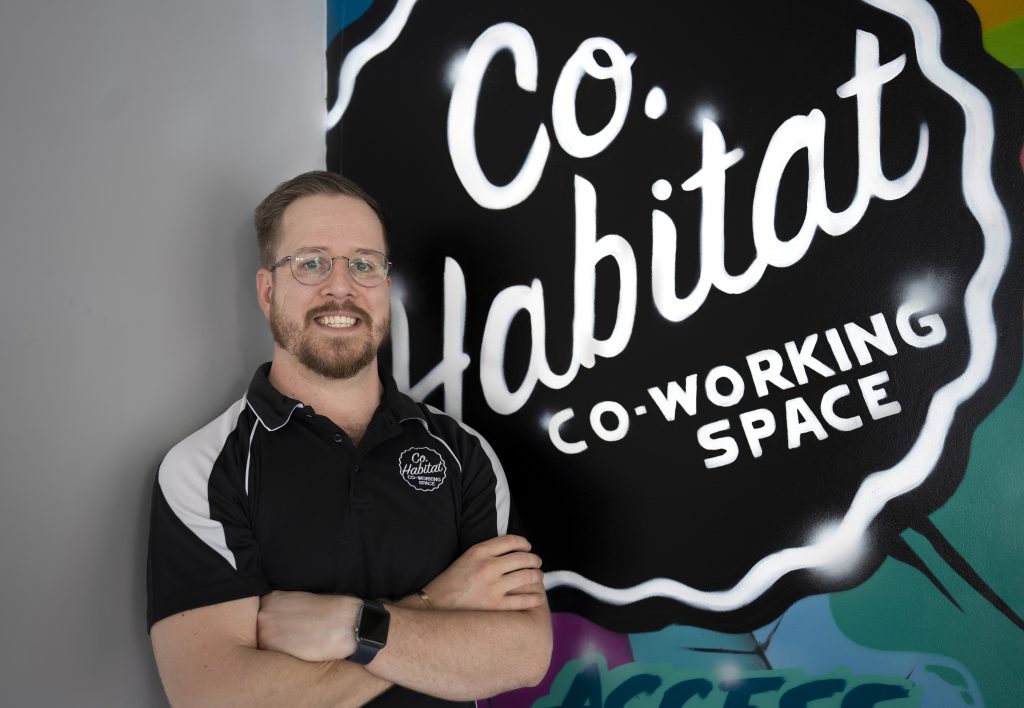 Having always had an inquisitive nature, ability to take on new challenges and that 'I am going to do this because I can' attitude, Josh moved to Adelaide after school to study a Bachelor of Oenology (Wine Science) at The University of Adelaide. Graduating in 2010, Josh then spent the next four years travelling both domestically and internationally with work. This allowed him to work in some of the most picturesque places around the world including, the Hunter Valley, Barossa Valley, Margaret River and Rutherglen in Australia and Napa Valley in America and Upper Rhine in Germany.
In 2014, Josh moved back to Townsville to spend some more time with family and rest from the constant travelling. Since then, he has gotten married and even welcomed his first child.
More recently, Josh has taken on an increasing level of community activity. Committed to seeing and helping local business thrive in a changing environment, and is the current captain of the Townsville Young Chamber Committee. Josh can also be found at a wide range of networking events throughout the city, from Townsville Chamber of Commerce Coffees, to Beers Down Friday and various other events.
---
Monique – Office Administrator
Monique was born and raised in Adelaide, before moving to Townsville at the start of high school. Having now been here for 15 years, we think it's safe to say she's officially a Queenslander.
Monique's journey has been a diverse one, with experiences in various fields such as Hospitality, Retail, Warehousing, Cleaning, Administration and Childcare. She's also studied Diplomas in Creative Arts and Early Childhood along the way.
With a love for arts and crafts, Monique volunteers with the Townsville Show Arts & Crafts Section, and has spent time photographing the various cats and dogs for Townsville Fostering and Rehoming Animals. Monique has 3 fur babies of her own and loves animals of all shapes and sizes.
---
Charli – Front of House
Charli was born and raised in Townsville and attended Townsville Grammar.
Currently, Charli is a first-year Business student, majoring in Marketing at James Cook University. She has a strong interest in social media marketing and event management and can't wait to see where a career in these fields can take her.  
Charli currently takes care of the Co. Habitat socials and newsletter. She works alongside Jasmine keeping on top of bookings, emails, invoicing and all other receptionist duties!
---
Jasmine – Front of House
Having lived in Townsville all her life, Jasmine is very accustomed to the Townsville heat.
After completing a traineeship with TORGAS, she was then taken on as an employee of her host company James Cook University, where she was trained in different areas of JCU's Human Resource Department. This had such an impact on Jasmine, that she started studying at James Cook University for her bachelor's in business, with a focus on Human Resources.
As she is very involved with her culture, she often travels up and down the Queensland coastline for traditional business. She hopes to further combine culture with business and encourage the same for present and future generations to come. 
Now she works alongside Charlie as a Front-of-House Receptionist, ensuring the Co. Habitat team and all their receptionist duties are taken care of.