Conference Room
Townsville's best for hire Conference Room. We will work with you to provide the perfect space for your next event.
Groups of less than 30 will work well in the Half Room, bigger groups may require the full room depending on the layout required.
Unlike many event spaces, we do not charge extra for the use of our audio equipment, we figure if you are hosting an event you need to be able to present your information effectively.
When booking the Half Conference Room, it is still possible for the other half to be booked simultaneously. Co. Habitat does not make any guarantee over the level of noise that may carry between halves.
Prices
Half Room: $400
Full Room: $800
Catering (optional):
Morning Tea: $10/person
Lunch: $25/person
Afternoon Tea: $10/person
You are welcome to self-organise catering if you wish.
Details
When booking the room, please take into consideration any setup and packup time required.
Your booking includes: Tea and Coffee, Whiteboard, High Speed Wifi access and full day access (8:30-5:00pm).
Access is granted between the hours of 8:30am and 5:00pm Monday to Friday. Where access is required an outside of normal hours, an additional staffing fee may apply ($60/hour Mon-Fri, $120/hour Sat-Sun).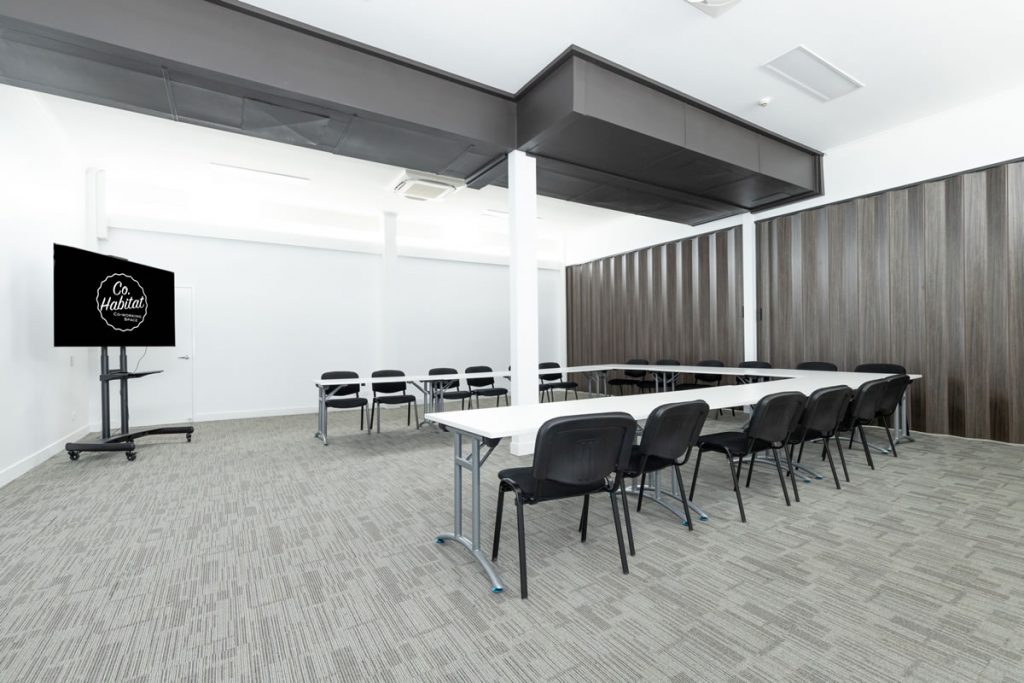 Booking and Confirmation Policy
Co. Habitat has made booking even easier for you and your business.
Complete Online Booking Form (ensure all required dates selected, not just first and last)
50% Non-refundable deposit will be required for confirmation.
This date will be held for up to 7 days without payment.
Where deposit is not paid in this time, booking will be removed from Calendar for other bookings
Balance will be due no less than 3 days prior to event commencing.
Services (e.g. catering, early/late access) will be included on final invoice prior to event.
All booking and catering invoices must be paid in full prior to event commencing or access will not be granted.
Members Booking and Confirmation Policy
Where a Member creates a booking, they will have 7 days to cancel booking without cost or penalty.
Where booking exists for 7 days or more within the system, cancellation after this time will not result in deduction from used hours.
Where booking exceeds membership hours, cancellation after 7 days but more than 72 hours prior to booking commencing will result in 50% fee being charged as with all non-member bookings
Where less than 72 hours notice is provided of cancellation, full fee of additional hours will be charged.
All charges will be applied to the first invoice issued after booking is made.
As part of Members Bookings, the Urn is not set up in Boardroom 1 and 2. Members are welcome to help themselves to Tea/Coffee from the kitchen as normal.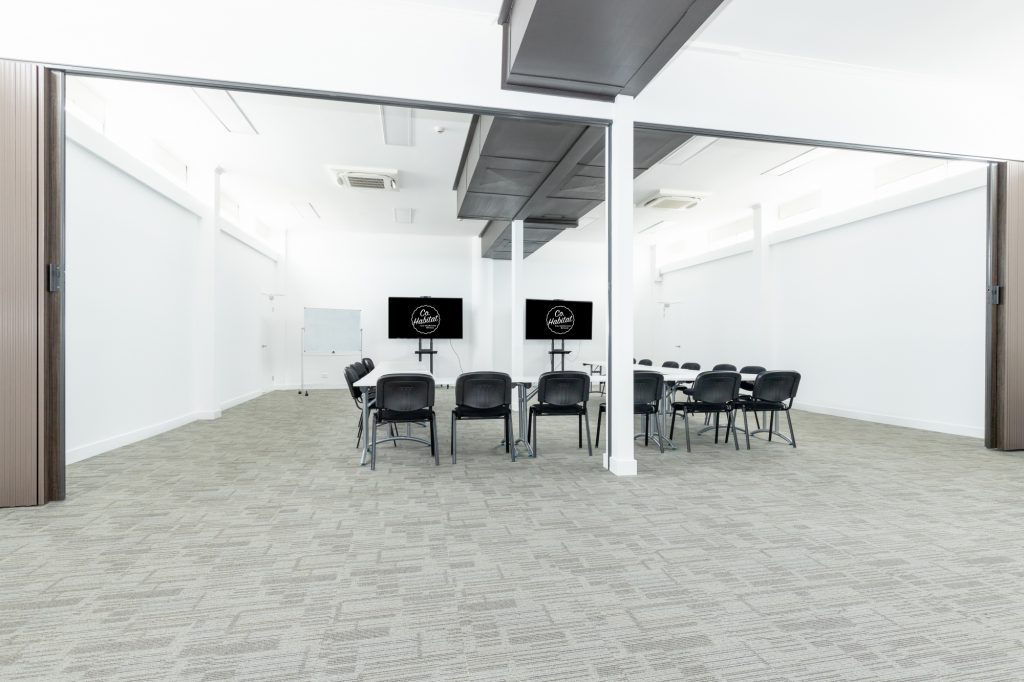 Rescheduling and Cancellations Policy
Once booking is confirmed, it may only be rescheduled without fee or penalty where more than 72 hours notice is provided.
A booking is considered commenced from the start of the first day booking, regardless of days being consecutive or non-consecutive.
A booking may only be rescheduled one time without incurring new booking fees.
Cancellations with more than 72 hours will result in a refund minus the 50% non-refundable deposit. This deposit will not be applied to new or future bookings.
Where less than 72 hours notice is provided of cancellation, no refund will be issued.
Catering Policy
Completed Catering Form required no less than 10 days prior to event commencement.
Catering is invoiced separately to Room Booking with payment in full required no less than 3 days prior to event commencement.
Attendee number listed on catering form is fixed and final. Any reduction in numbers is not eligible for a refund.
$10 delivery charge on catering orders for less than 5 people applies.
Alcohol Policy
Alcohol may only be available during an event under specific conditions.
A licenced caterer provides alcohol as part of their service.
A Community Liquor Permit is approved by The Office of Liquor and Gaming Regulation and supplied to Co. Habitat Management prior to the event. Community Liquor Permit are only issued to not-for-profit associations and incorporated clubs.
Event is BYO. Strictly speaking, attendees must bring their own alcohol. Event co-ordinators must not supply alcohol at a BYO event.
Booking Form
Co. Habitat's Conference Room can be divided in half. Please select either Full Room or Half Room.
When selecting multiple dates, please click all applicable dates and not just the first and last date.