Classroom
The Classroom provides a great location to hold practical small group training that requires a bit more space than typically offered sitting around a boardroom table.
With 6 desks, the room is well suited to groups up to 12 people, depending on your specific requirements.
Pricing
Hour: $60
Half Day (4 Hours): $200
Full Day (4-8 Hours): $350
Full Week (5 Consecutive Days): $1200
Catering (optional):
Morning Tea: $10/person
Lunch: $25/person
Afternoon Tea: $10/person
$10 Delivery on Catering Orders Under 5 People.
Catering orders required no less than 72 hours prior to booking commencement.
You are also welcome to organise your own catering or bring own food.
Details
When booking the room, please take into consideration any setup and pack up time required.
Room includes 6 desks (1500Wx750D) with 6 chairs. Up to 6 additional chairs can be provided if required.
Your booking includes: 55″ 4K TV and cables, Whiteboard, and High Speed WIFI.
Access is granted between the hours of 8:30am and 5:00pm Monday to Friday. Where access is required an outside of normal hours, a Fee may apply ($60/hour).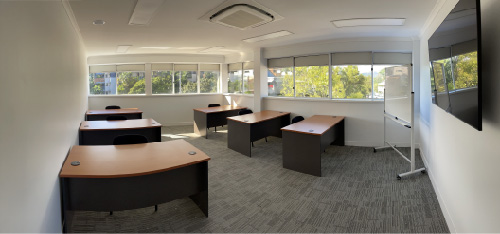 Booking and Confirmation Procedure
Co. Habitat has made booking even easier for you and your business.
Complete Online Booking Form (ensure all required dates selected, not just first and last)
50% Non-refundable deposit will be required for confirmation.
This date will be held for up to 7 days without payment.
Where deposit is not paid in this time, booking will be removed from Calendar for other bookings
Balance will be due no less than 3 days prior to event commencing.
Services (e.g. catering, early/late access) will be included on final invoice prior to event.
Rescheduling and Cancellations Policy
Once booking is confirmed, it may only be rescheduled without fee or penalty where more than 72 hours notice is provided.
A booking is considered commenced from the start of the first day booking, regardless of days being consecutive or non-consecutive.
A booking may only be rescheduled one time without incurring new booking fees.
Cancellations with more than 72 hours will result in a refund minus the 50% non-refundable deposit. This deposit will not be applied to new or future bookings.
Where less than 72 hours notice is provided of cancellation, no refund will be issued.
Booking Form
The Classroom is ideal for small group training sessions involving laptops and workbooks.