Video Conferencing and Training Room
Our Video Conferencing and Training Rooms are the ideal place to host your next virtual conference, board meeting, consultancy panel or any other event that requires telecommunications.
The Integrated Video Conferencing Units are not software specific which means you can use them for Teams, Zoom, Skype and whatever other platform you choose to operate on.
These rooms also double as flexible Training Rooms for those smaller events where you may be required to watch a video or do some floor work such as CPR training and bandage wrapping.
Pricing
Hour: $60
Half Day (4 Hours): $200
Full Day (8 Hours): $350
Full Week (5 Days): $1200
Catering (optional):
Morning Tea: $10/person
Lunch: $25/person
Afternoon Tea: $10/person
You are also welcome to organise your own catering or bring own food.
Details
Your booking includes: 55″ 4K TV w/ HDMI Cable, Integrated Video Conferencing Unit (Microphone, Speaker, Camera), Whiteboard, and High Speed Wifi.
Access is granted between the hours of 8:30am and 5:00pm Monday to Friday. Where access is required an outside of normal hours, a Fee may apply ($60/hour).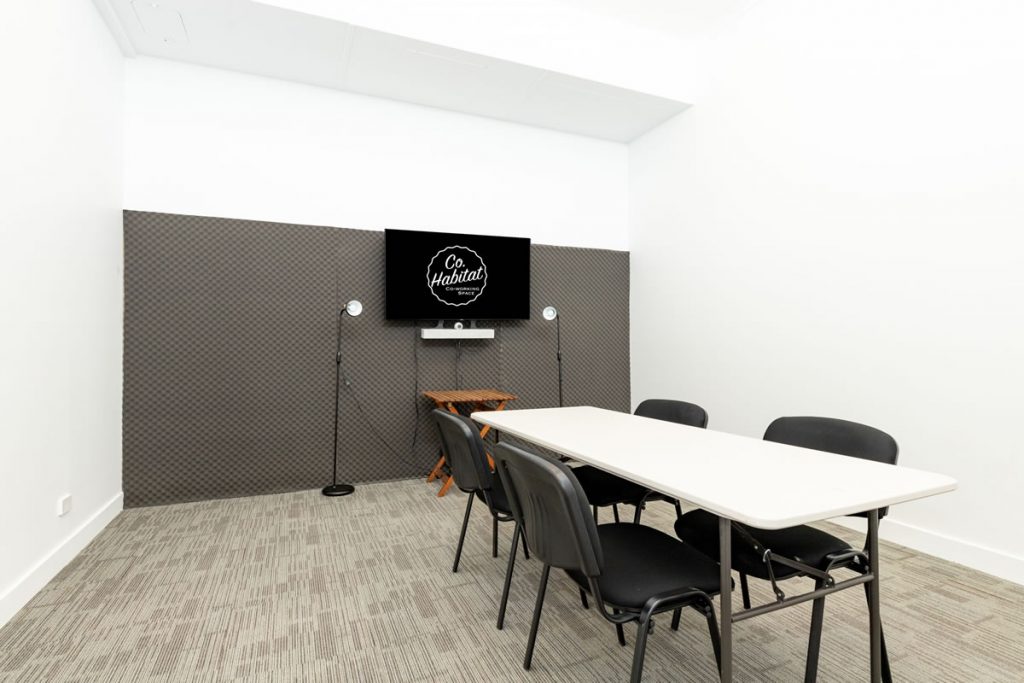 Booking and Confirmation Procedure
Co. Habitat has made booking even easier for you and your business.
Complete Online Booking Form (ensure all required dates selected, not just first and last)
50% Non-refundable deposit will be required for confirmation.
This date will be held for up to 7 days without payment. If deposit is not paid in this time, booking will be removed from Calendar for other bookings
Balance will be due 3 days prior to event commencing.
Services (e.g. catering, early/late access) will be included on final invoice prior to event.